Authentic Gauteng wedding photos | Leanne and Shea
Real Wedding photoshoot at Forest Walk in Midrand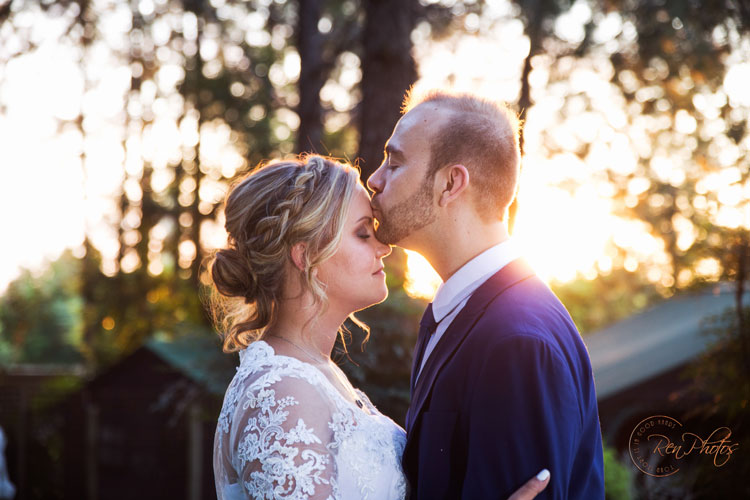 These Gauteng wedding photos are from Leanne and Shea wedding photo session at Forest walk in Midrand Johannesburg. Leanne wanted a very relaxed session with most of the focus actually on guests. The couple chose not to have their getting ready photos done in this instance as they were getting ready at different venues , so everything I needed to do was all at the one venue.
This can be great for the photographer as we generally have more time to then get those candid shots and more natural-looking photos from your wedding day, instead of rushing between locations trying to get all the shots required for getting ready.
They did have some great unique wedding decor though and a beautiful element was the peacock feathers throughout the table decor, on the cake and in Leannes hairpiece. It really works so well and has such rich beautiful colours. The rich purples, greens and blues complimented the forest look really well and offset nicely against the couples wedding attire.
Forest Walk wedding Photography Venue
These two are really a stunning down to earth couple.It was an honour to be a part of their special day and capture these memories for them. Forest walk as always is a great venue to photograph at any time. The forestry surrounding the church is great for any time of day photos.
But Sunset is becoming one of my favourites at this venue. As the sun sets it comes through the trees beautifully and turns everything to that golden orange colour. It really looks like you are in a fairytale. The open air chapel is another great feature and really blends nicely with the forest surroundings. It is awesome to photograph in as it allows a lot of natural light through. Its a great location to consider for your own gauteng wedding photos .
Tips to get great wedding photos
No matter the wedding Venue, or place , or country or time of year, the most important thing for great photos is light. So follow these tips to make sure you end up with the best light on your wedding day for your wedding photos.
plan to finish your wedding ceremony about 1.5 to 2 hours before sunset. This allows you enough time to have family photos and bridal party photos before finishing up around sunset with your wedding couple photos hopefully with golden hour light
The photos themselves do not take a long time , but organising the people in them can be quite challenging. Its best to have a good MC on your side – someone that is not afraid to get loud and bossy when necessary.
Also plan to do the family photos as soon as possible after your ceremony before your guests start to wander off .
Move the family photos to somewhere a little away from the welcome drinks and main crowd so that your family can be seperated. This is the best way to get through the photos as quickly as possible and for everybody to start enjoying the party.
Draw up a list of everyone you want in each family photo. This may seem trivial, but your wedding day can get a little chaotic, especially around this time, and to avoid missing anyone out of the photos its best to think about it beforehand and make sure you have included everyone you want to
Furthermore, after your speeches and before your buffet its a great time to do photos table by table. It helps control flow to the buffet and its an easy way to include all of your guests in the photos and ease any tensions from anyone that was maybe left out of the family photos.