4 Stunning Pretoria East Wedding Venues
Tips for choosing your Pretoria East wedding venues
When it comes to weddings, choosing the venue is probably the biggest and one of the most important decisions you will make, as the venue sets the tone, theme, and ambience of your wedding.
For instance, if your dream is to have a classy, elegant wedding with crystal and bone china, you would look for a venue that suits this theme and is probably quite grand rather than a rustic or intimate wedding venue.
There is a lot to consider when looking for a Pretoria East wedding venue, so we will help you by going through some of the venues we have worked at and what we love about them—starting with the following four beautiful Pretoria East wedding venues.
Roberta and Wade chose to have their wedding at the Olympus Function Venue ≫ in Pretoria East. Their set-up was an elegant white theme matching the venue's elegance.
It has tall ceilings and crystal finishes, so the long vases and table with white roses did blend perfectly with the setting. Check out their wedding photos below!
1. What to look for when choosing your Pretoria East wedding venue
2. Olympus Manor Pretoria East wedding venue
3. Gecko Ridge Pretoria East wedding venue
4. The Farm Inn Pretoria East wedding venue
5. Lavandou Pretoria East wedding venue in Tierpoort
1. Things to consider when choosing a wedding venue.
There are four factors to consider when choosing a Pretoria East wedding venue – besides whether it suits your theme.
1. We will look at convenience – is everything found in one place? Are there suppliers nearby you can use, or does the venue supply everything for you? Can the bride and groom get ready at the venue? How accessible is the venue to all of your guests?
2. Next, we can look at the expertise the venue offers – Is there a wedding coordinator with your package? How long has the venue been in business?
3. Being a photographer, I always look at the lighting – both in the venue and where you will be getting ready, as well as where you will be taking your couple photos – photos will last forever, so you want this to be something memorable.
4. Last but not least, we will look at what makes this venue unique? Why should you choose it above all the other hundreds of venues out there? And most importantly, does it suit your theme?
2. Olympus Manor Pretoria East wedding venue
The photos above were taken at the Olympus function venue – an elegant and sophisticated Pretoria East wedding venue in the heart of Pretoria with so much to offer.
It is easy and safe to access, and there is plenty of accommodation in the area for anyone wanting to stay over and avoid any long drive home.
There is a small bridal suite right next to the chapel and walled off, so it is still private, but it is very convenient for the bride to step out and be ready to walk down the aisle.
There are three chapel options – the above is an open-air chapel, but it is beautifully draped for shade on those hot sunny days keeping it nice and cool.
Bear in mind the time of your ceremony; however, this can sometimes mean the chapel is in the half-light and half shade and can be a bit of a nightmare for photographers.
There is also a stone chapel and another outdoor chapel under cover in case of rain.
There are two reception halls on offer – the banquet hall with the courtyard, which can cater for 250 guests, and the manor venue, which can cater for 50 guests.
In addition, various outdoor areas can cater to smaller functions from 8-40 guests, which is also ideal for small bookings. Both halls are well-lit and beautiful to photograph in.
The venue is well experienced in catering for weddings and functions and has so many includes that are hard to ignore in their packages.
Where a lot of venues will also charge for these extras, they include things like Chanel chairs for the chapel and gold, black or silver cutlery. The choice is yours!
One of my favourite features of this venue was the secret garden or Alice in wonderland vibe you get from it. Tucked away behind the banquet hall is a beautiful private garden well shaded so you can photograph at any time in it.
3. Gecko Ridge Pretoria East wedding venue
To get a bit of an insider's view of this Pretoria East wedding venue, look at the below photoshoot we did for Lorraine And Dewald by clicking the below button.
Gecko Ridge is a Pretoria East wedding venue a little out of town but still very accessible from Pretoria via the N4 highway.
It has all the facilities you need at one venue, from rooms to get ready in, including a beautiful, well-lit bridal suite, to the chapel and venue, all on the plot and within walking distance for all guests.
The venue is large and can accommodate up to 600 guests.
By contrast, the chapel is small and narrow, making it challenging to fit this many guests in, but it can still seat up to 250 people comfortably, and the long aisle gives plenty of time to get photos of the bride walking in.
In addition, it is well-lit like all of the venue's facilities.
Gecko Ridge is well experienced in catering for all types of weddings and offers all-inclusive packages to its clients, including things such as a DJ and florist who can take the headache out of planning a wedding and give you some peace of mind.
And finally, the unique features the venue has to offer – This venue has both manicured and landscaped areas as well as an open field with veld grass and a little dam which makes for incredible reflection shots in the water!
So, whether you want fountains, bridges, pretty buildings, or just a plain open field at sunset, you can have all these at one venue!
They are currently offering a fantastic special for 2022, which you can view here – and a voucher up for grabs with some amazing includes! Gecko Ridge Pretoria East wedding Venue Specials ≫
4. The Farm Inn Pretoria East wedding venue
This beautiful Pretoria East wedding venue has so much to offer and some unique features you will not find at just any venue. It is a large venue with more than one option when you are hosting a wedding, so you are spoilt for choice.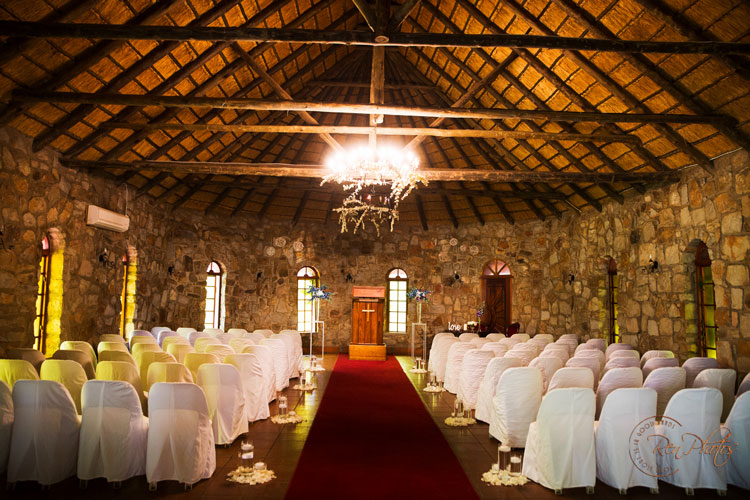 There are rooms available here for the bride and groom to get ready in, and the chapel and venue are both located on the premises and within walking distance, making things very convenient.
It is also actually in Pretoria itself, so it is easily accessible and central for your guests to get to.
This venue has the wedding industry expertise and has been in business for many years. The staff are there to help you, but they, unfortunately, have no wedding coordinator.
The rooms are thatch which is not ideal for lighting, so if you don't have external lighting, you may struggle as a photographer. That said, I only had to use two mobile flashes, which was quite pleasing.
Lighting in the venue is ok – it also has very high ceilings, so not ideal, but again quite manageable.
The best thing about this venue is that you are in the middle of town, but you could be in the bush. For your couple or bridal party photos, you are put into a game viewing vehicle and taken around the farm, which has wildlife all around it. It has sweeping views of Pretoria and some stunning spaces to photograph.
If you don't want to do the game drive part, there are equally beautiful places to take photos around the venue with its stonework and unique interiors.
The unique thing at this venue is the cheetah. You have an option to take photos with the cheetah and for her to be the ring-bearer in your ceremony!
A unique feature of this venue and come on! Who doesn't want to have photos with a cheetah or be able to say a big wild cat brought the rings down the aisle?
Just a side note that the Farm Inn has downsized due to the pandemic, so it does not offer packages at this point, but you can still contact them and ask about the options available should you wish to have a wedding here. So let's get them back on the map!
5. Lavandou Pretoria East wedding venue in Tierpoort
Finally, we travel to Lavandou's wedding venue – a little outside Pretoria in Tierpoort but well worth the drive out.
If country elegance and grandeur without losing the feeling of intimacy for your wedding is what you are after, this is the venue for you.
It is a bit more of a drive out for you and your guests, but it is a beautiful part of the country, and again there is accommodation nearby for you and your guests if necessary.
The venue offers a spacious bridal suite for the bride and bridesmaids to prepare.
The chapel is set in a pine forest which gives the best country vibe, and there is just something about a pine forest that is quite magical and romantic.
One of my favourite features of this venue is the reception hall draped entirely with a sea of fairy lights.
This plays off the warm wood colours and trestle tables, completing this country estate feel while being warm and inviting for your guests.
The garden outside is also draped in lanterns and fairy lights, making for some incredible night shots. Finally, this venue lives up to its name, and it does have a lot of lavender.
There are plenty of opportunities to have photos that incorporate lavender in them, mainly around a stately fountain, but the unique feature about this venue, I would say, is just the whole look and feel of it.
So much on offer makes it such a beautiful venue to photograph that you will be impressed. Take a look for yourself, at the wedding photoshoot we did at Lavandou.
In conclusion, there are many options to choose from if you want a Pretoria east wedding venue – these are just a few of our favourites.
Each of them has unique features and different vibes, so it does depend a lot on what you want the overall look and feel of your wedding to be. But all of these venues offer a large amount of experience in creating your dream wedding, so relax and know you are in safe hands!
And if you are interested in booking Renphotos as your wedding photographer, don't hesitate to contact us.
We will be happy to help you put a rough timeline together and recommend a package accordingly.